In Dialogue With Technology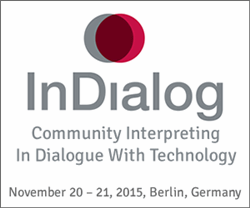 Following the success of the first InDialog conference in November 2013, which mapped the status of community interpreting worldwide, the second international InDialog conference returns to Berlin on 20 – 21 November 2015. Under the overall theme Community Interpreting In Dialogue With Technology the conference will contribute to identifying and promoting steps to implement effective solutions.
The programme is now online. It features keynote speaker Barbara Moser-Mercer, Professor of Conference Interpreting and Founder and Director of the University of Geneva's Center for Interpreting in Conflict Zones (InZone). A cognitive psychologist who was also responsible for co-developing the first fully integrated virtual learning environment for interpreters, Moser-Mercer will speak about the potential of new technologies to enhance interpreter training and practise, as well as the importance of research to understand how learners acquire interpreting skills in technologically rich environments.
Regarding how new technologies will impact the industry in the future, Moser-Mercer says: "If the last 10 years are to predict what lies ahead, I think we will see how interpreting service provision continues to become increasingly ubiquitous, providing more and more reliable access to the law, to healthcare, to social services for millions of people who are not fully conversant with the language(s) of the country they have arrived in or live in."
The programme also includes global panels of expert speakers, individual talks, discussions and posters, which address issues that highlight the ongoing need for new and sustainable solutions and policies to support access to multilingual services within and across nations.
As technology is becoming more and more evident in community interpreting today, it is time to examine its impact, opportunities and limitations in research, training and practice in the field.
Find out more at: http://www.indialog-conference.com/programme.php