Strange Pronunciations Helped Language Evolve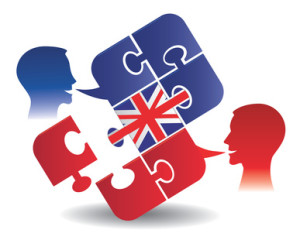 by Steven Blum
I sometimes mispronounce words on purpose just for my own amusement. I often wish I was funny enough to rack up millions of hits on YouTube just by pronouncing things in a ridiculous fashion.
But according to a very serious report the Daily Mail, it is a very shameful thing to not pronounce a word correctly. More than 25% of British people feel so worried about getting certain words wrong that they "even ask someone else to say them." Words like "espresso" and "prescription" are among the most oft poorly pronounced, according to a study.
There shouldn't be any shame in helping along the evolution of a word. Linguistics teaches us that languages are ever-changing, and past "mispronunciations" have shaped many of the words we use on a daily basis.
For example:
The next time you hear someone making fun of another person for their pronunciations, consider that the letters in a word have a tendency to switch over time. Birds were once called brids and horses were called hroses. (Leave me alone, Autocorrect! I'm trying to make a point here). This process is called "metathesis."
It was once common to begin words like apron and umpire with an 'n' — i.e., napron and numpire. Why? A process called "bracketing" confused the last word of the pronoun for the first word of the noun.
If you'd like to invent your own language, just mispronounce foreign words! Many English words evolved from mispronunciations of the strange and unfamiliar words of foreigners. This process is called Folk Etymology, and it is all around us. For example, cockroach was borrowed from Spanish cucaracha but was folk-etymologized as cock + roach.
Other times, the sounds people inserted – whether consciously or unconsciously – into words became the words we pronounce today. For example, thunder was once called "thuner," and "empty," empy. This process is called epenthesis.
On the page, certain words look like they're meant to be pronounced a certain way, when they're really not. For example, the Norweigan word for skiing was spelled with a "k" but pronounced "shying." Early English readers simply started pronouncing the word the way it was spelled and, voila, the current word for skiing was born!
So maybe think twice before you make fun of somebody's pronunciation of a word. Your grandkids may end up using it.