From iPads to robots – current technology in the classroom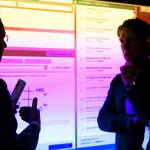 "What technology does modern teaching need?" is the question at the core of the 4th School Forum. No longer can innovative technology be dismissed from lessons. What started with videos and podcasts, blogs and wikis, SMARTboards and laptop usage now extends to eBooks and tablet projects – even robots are making their way into the classroom.
That's why the Fraunhofer project ROBERTA is part of the eEducation Masterplan for Berlin, as Anja Tempelhoff, the director of the Wolfgang Borchert School in Berlin-Spandau will talk about, drawing from her own practical experience. Nikolai Neufert, the superintendent for the senate department for Education, Youth and Science, is responsible for its implementation and will be discussing its planning and realisation at the School Forum 2012.
The keynote speaker Thomas Seidel, the director of the BITKOM Academy, who has many years of experience in developing technology-based school projects, will pose the provocative question of whether a school without ICT still has social relevance. Any difficulties that arise when habits that have been formed over many years meet new (technological) opportunities will be examined by Dr Mark David Milliron with a fine tooth comb.
The School Forum, as a part of the largest international eLearning conference, ONLINE EDUCA BERLIN, invites teachers and headteachers to participate in discussions about the newest trends in technology for the classroom on the 28th November 2012 at the Hotel InterContinental in Berlin. The majority of the forum will be conducted in German. Participation in the School forum is free of charge for teachers and headteachers.
More: www.school-forum.net