British Council Explores Shakespeare's Enduring Legacy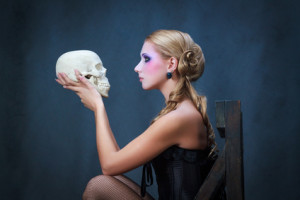 How does Shakespeare continue to shape the conventions of theatre? And what has been lost in the modernisation of his work? The British Council sought to answer these and more questions with their Shakespeare Literature Series held at Bertelsmann in the heart of Berlin in March. The series brought together UK authors Naomi Alderman, A S Byatt, Howard Jacobson, Tom McCarthy, Alice Oswald, Mark Ravenhill and Polly Stenham to discuss the poet and playwright's enduring legacy.
Despite the fact that Shakespeare lived long ago in the 1600s, his thoughts on love and war, his views of tragedy and comedy and his humanism continue to beguile and inspire actors, directors and writers all over the world. Goethe proclaimed of Shakespeare, in 1771, "Once I had read an entire play, I stood there like a blind man given the gift of sight by some miraculous, healing touch."
But the bard didn't simply transform theatre; he also added over 2.000 words to the English language. "Whatever we want to express, he's said it first," said Dame Gail Rubick in the series' keynote address. Words that first appeared in Shakespeare's plays include "fashionable," "mortifying," "reclusive" and "quarrelsome." The rich language in his plays has proven to be endlessly adaptable to modern times.
"Every generation finds something in Shakespeare that sounds and feels uncannily modern," said Rubick. But speakers at the series questioned whether Shakespeare's contemporaneousness was always good thing. Naomi Alderman suggested that Shakespeare's work is not easily modernised. "Much of the comedy, for example, which often arises from a clash of moral assumptions with reality, is barely intelligible to us now – let alone funny," she said.
Novelist Howard Jacobson asked if demanding contemporaneousness from Shakespeare would "absolve us from any effort to grapple with the meaning of his work." Others suggested there was a risk in trying to "tidy up" Shakespeare to fit the times. "We don't fully embrace the contradictions," said Mark Ravenhill, Writer in Residence for the Royal Shakespeare Company.
What the speakers were easily able to agree on was that grappling with Shakespeare's complexities was an inherently enriching exercise. "Shakespeare's 'cubism' shouldn't be ironed out, neither by abridgment nor simplification or modernisation," said Mark Ravenhil. John Mullan, professor of English at University College London and Host of the Guardian Book Club, suggested readers should pause to ask what is "most distant and strangest about his work."
The Shakespeare literature series has ended, but is still available to watch in its entirety on YouTube.