Intercultural Relationships and Marriages (Part 1)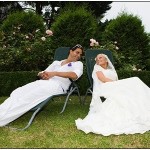 Your own wedding is one of the most important days in a person's life. For two people to proclaim their love for each other ceremoniously in front of family and friends involves much more than tradition in today's globalised world. Furthermore, a wedding is a complex thing to organise, and the special day usually isn't a success without the help – and presence – of family and friends.
Because of globalisation, the number of intercultural marriages has risen continuously over the last few years, and in such situations, there are even more things than usual to manage and consider. When two people who hold different passports want to "tie the knot", a large number of trips to governmental offices, ministries, etc. can be necessary.
Hannah Dröge de Carrizo, who is German, is married to Venezuelan citizen Alejandro Carrizo Paz. The couple has kindly agreed to share their experience regarding international relationships and weddings with Sprachennetz.
by Kevin Schmidt
First of all many, thanks for the interview! Could you please tell us your story? How and where did you meet each other?
We are always happy to share our story.  It was in September 2002 when our paths crossed for the first time. I (Hannah) went to Venezuela after high school in order to learn Spanish and figure out what I wanted to do after I graduated. I met Ale a month into my stay and was head over heels for him. It was definitely love at first sight for me.
Actually, it was quite a coincidence that we met in the first place. It was only because of two guys I met on the bus. They invited me to their concert, where I met Ale's ex-girlfriend's little brother, who then took me out dancing. He told me he would come to pick me up with a friend, and that friend was Ale.
How did your parents react when you first told them about your relationship and the idea of getting married?
Well, my parents were already used to "international" boyfriends. I had had a French boyfriend when I was fifteen and an American boyfriend just before I met Ale, so they were open to anything. However, the first time we considered getting married was a year into our relationship, when Ale came to visit me in Germany. They really liked him, but they did not like the idea of me getting married so young and maybe for the wrong reasons. Ale could not stay in Europe longer than three months at that time.
We ended up waiting, which really put us through some hard times while living in Spain. We had to deal with a lot of things that we could have avoided if Ale had had the required papers from the beginning.
But in the end, we got married for the right and only reason … because we love each other.
How long had you known each other before you decided to take "the big step"?
We had been together for seven years. You know what they say about the seventh year. So before it could jinx us, we got married.
When and where was the wedding?
The wedding was on the 31st of January, 2009 in Valencia, Spain.  We got married at a beautiful church in a small village called Alboraya. The service was in English, but I don't think we were the only ones who didn't understand a word because the priest's Spanish accent was so strong. But he tried, and the atmosphere was amazing.
The party took place at a friend's Mexican restaurant. They had everything set up for us, and we turned the place into a dance floor. It was so much fun. After the restaurant, we moved the party over to our apartment, which had a huge roof terrace. There were people everywhere at our place, dancing, eating, drinking … just having fun. The best part about our wedding was the people… That's for sure. We had friends and family come in from all over the world: Venezuela, the US, Germany. We felt so loved.
Was it a problem to gather your relatives and friends for the wedding?
We sent out the invitations and were hoping that some people would be able to make the trip and spend our wedding with us, but we would have never expected that so many of our friends would actually come all the way to Spain to celebrate with us. It sure involved quite some planning, but we took everything pretty relaxed and didn't stress ourselves with the wedding.
To be continued….
Foto: Hannah Dröge de Carrizo, Alejandro Carrizo Paz